Reality TV, Anatomical Wonders, Video, 600 Pound Mom: Race For Time, 600 Pound Mom,Dominique Lanoise, Dominique Lanoise 600 Pound Mom, Weird Florida, Weird Photos & Videos, Weird Science,
Weird News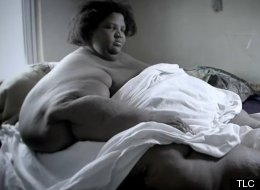 At 689 pounds, Dominique Lanoise carries a lot of weight all over her body, but the bariatric surgeon in charge of giving her life-saving surgery is more concerned with the fat
inside than her fleshy folds.
"The obesity is not only on the outside, but on the inside," Dr. Jorge Rabaza said in "600 Pound Mom: Race For Time," a TLC special debuting Dec. 5
.
A Haitian immigrant who lives in Miami, Lanoise first came to fame in 2010 when she was forced to stay in Haiti for three months after the earthquake because she was too heavy for commercial airlines, DominicanToday.com reported.
Dieting attempts failed because Lanoise would continue to eat more than she was supposed to, which is why surgery is required.
Rabaza said the goal was to reduce her stomach by 90 percent, but admitted there were risks like blood clots.
"There is a high mortality rate for morbidly obese patients, where they get blood clots in their legs and the blood clots go up to their lungs," he said. "A large blood clot will kill a patient instantaneously."
Lanoise's daughters have mixed feelings about the surgery. Jeanne, is worried about the risk, but points out that her mom can't walk in her current state. Fabienne doesn't want her mother to go under the knife because success is not guaranteed.